It's hard to believe that twenty years ago in Sydney it was hard to find German riesling on a wine list or in a bottle shop. Consumers didn't seem to understand it, sommeliers and wine retailers were dealing with a public that were uneasy about the variety, burned by a history of sweet 'Riesling' wines from the 60's and 70's that were in fact not riesling at all, but other varieties like semillon, verdelho, muscat, or even sultana in wines like Lindeman's Ben Ean Moselle or Brown's Spatlese Lexia. Back then we had a difficult job of convincing our customers to try even dry Aussie rieslings as they were so jaded from the past (and then also had to convince them that screwcaps featuring on Clare Valley Rieslings from the 2000 vintage onwards weren't the devil incarnate! But that's another story…) and chardonnay had become queen of the white varieties.
Sure, there were a handful of German rizza supporters back then – Jon Osbeiston and Jason Hoy at Ultimo Wine Centre, Ian Cook at Five Ways Cellars, John Clancy at Quay Restaurant, Jerry Jones at Tetsuya's and Sally Harper at Bather's Pavilion understood their way around (potential) sugar level labelling in German wines: trocken, kabinett, spatlese, auslese et al (and the benefits of screwcap v cork but ahem, I digress), thanks to importers and educators like Patrick Walsh, David Burkitt and Robert Walters, and had bottles on their lists and shelves. But for many wine merchants the struggle was all too real to convince the masses of their charms.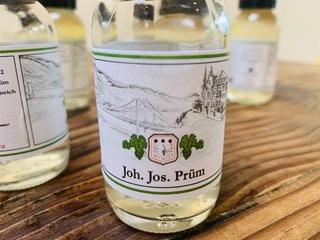 And then slowly but surely the wine trade and cognoscenti got into German riesling – loving the wines for their racy purity, their ability to be drunk both young or with age, their evocation of place and vineyard, their utmost quaffability but also food-friendliness – especially with our Asian-influenced, aromatic spiced, coriander-herby dishes – and importantly, their value-for-money compared to other prestige regions. And then the first of what grew to be an annual rizza lovefest slash genius marketing movement, the global 'Summer of Riesling' hit towards the end of the noughties, bringing these wines (along with the rieslings of Alsace, Austria and the new world) exploding into the public's consciousness, and with it the acceptance that sometimes sugar in wine is bloody good – especially when it's balanced with a bucket-load of natural acidity.
I was reminded of those dark ages of riesling and how wonderful it is that we've come so far since then when I was joined by more than 60 other passionate German riesling-loving trade peeps – sommeliers, fine wine merchants and wine critics – at a recent JJ Prüm masterclass, hosted via zoom by Robert Walters from Bibendum Wine Co and featuring Katharina Prüm on video. The tasting starred the 2018 vintage of the three vineyards Bernkasteler Badstube, Graacher Himmelreich and Wehlener Sonnenuhr with each vineyard represented in three Prädikat levels: kabinett, spatlese and auslese. A masterclass that none of us wanted to miss, with the wines carefully pre-poured into little bottles and labelled for each taster.
JJ Prum is one of the finest and most iconic estates in Germany's Mosel Valley. Widely adored for their lightness of touch and dancing, fruit-pure and mineral rieslings that marry sweetness with refreshment, the estate prides itself on producing wines with extraordinary aging capacity, wines that often require a decade before they come into their own. Founded by Johann Josef Prüm in 1911, the estate built a reputation for its racy, pure expressions of riesling grown on mostly ungrafted vines on the extraordinarily steep, slate slopes in the heart of the Mosel, and is now run by his great-granddaughter Katharina. Yields are low, with the harvest often stretching to late November.
The vineyards and wines:
Bernkasteler Badstube
These vineyards border Graacher Himmelreich and are southwest facing, allowing the vines a longer exposure to the sun – and deeper soils – than Graacher and Wehlener. Typically the wines produced are more delicate than those other vineyards, and are predominantly floral, delicate and mineral.
2018 Kabinett – slatey, mineral and stone with 'five alive' tropical juice notes and spice, richness and then a fruit jube explosion on the tongue. Slatey frame and pleasing citrus peel bitterness on the finish. 40g/L residual! Not that it's relevant as the wine is in such harmonious balance but you know, we Aussies like to ask!
2018 Spätlese – slate and tropical, super-juicy nose, richness – spice and texture, creaminess, class, spice. (Spice twice!)
2018 Auslese – flinty fruit combo, fresh just-ripe nectarine – plush fruit on palate, luscious and clean, flinty finish. Interesting to note that auslese is recommended to be drunk not with dessert but instead savoury dishes like pork, game, spiced meats, roast chicken, sausages and a wide range of cheeses. And that across their varied vineyards, the JJ Prüm auslesen are considered amongst the lightest and most elegant of the region, and are best opened between ten and 20 years of age.
Graacher Himmelreich
The wines of Graacher Himmelreich can often be on a par with those of the majestic Wehlener Sonnenuhr vineyard in hot, dry years, and the deep soils – or rather Devonian slate and parcels of blue slate – act as water reservoirs. The wines tend to have racy acidity and pronounced minerality and are usually ready to be drunk earlier than the other vineyards.
2018 Kabinett – Super-slate, smoky, crunchy savoury minerality. Palate as taught as a rope strung between the Twin Towers, with a finish of mashed petals. Intriguing.
2018 Spätlese – Super-slate and savoury with smoky reduction. More richness than BB, sweet versus acid chalkiness, tropical fruit burst, honey and spice.
2018 Auslese – savoury, flinty, slate nose, a little closed initially and then opened, pow! Fresh and juicy – grapefruit, pear, but with savoury almond edge.
Wehlener Sonnenuhr
The JJ Prüm estate owns seven hectares in this famous site, named after the sundial erected in the vineyard in 1842 by Jodocus Prüm (an ancestor of J.J. Prüm) to give the workers a better time orientation. The vineyard has the highest pure stone content of all the Prüm vineyards with very thin topsoil over Devonian slate – in some parts the vines actually grow out of pure rock. The forest at the top of the vineyard acts as a natural water regulator.
2018 Kabinett – more fruit richness than slate compared to the other kabinetts, apricot and white nectarine, power and balance, acid and chalky tannin as palate cleanser. Juicy juicy!
2018 Spätlese – elegant and more restrained on the nose than the other spätlesen with white peach, saffron, dried herb notes, slate and fruit. Juicy, textural like butter with savoury peel notes. Slurpy.
2018 Auslese – sunny, ripe apricot (and what I thought was a hint of botrytis marmalade richness – apparently not?), most definitely the richest of the three auslesen, intense and delicious, so complex. Another taster commented on 'power and electricity'… yup, and in the words of the youngsters: a hundred per cent!